Things I've learnt as a wedding photographer by Laura Adams
Sep 27, 2023
I was asked to write some wedding insights for a PR article and I thought, hey - why not share it with the Lens Eleven community...
1) What has been your biggest photography "fail"? And what lesson did you learn from this?
I suppose I have two:
- The first would be not managing my clients expectations throughout the process. Many couples say 'I trust you' and 'we're leaving the pictures in your hands' which feels very empowering, but if a shot hasn't been delivered that they would've liked, it's my job to get that information from the start.
I ask the right questions and deliver clear answers, so they know when their highlights and final gallery will be delivered, and the shots they'll receive. My style is very natural with creative compositions, which leans towards candids, so it's important we all know where we stand, so group shots for example are in the bag.
- My second issue would be the number of guests! I once captured a wedding in my early days that had over 200 guests. The couple wanted a good price from me, and I lacked the experience to push for a second photographer. You can cover so much more ground with a second and it's always an early question of mine.
Rather than adding to the couple's cost, you're sharing your experience, and helping them to get the best images possible. By becoming the expert, they'll trust you more and consider the extra investment. Don't be afraid to use your experience to help your couples out.
2) What has been your biggest photography "win"? And what lesson did you learn from this?
I love people and have forever been fascinated by personalities, cultures and traits. Connection top trumps anything in imagery and is the primary target I go after! I learned early on that if you identify the guests (usually family/close friends) that will help you throughout the day, you can make connections within their circles quickly. This builds trust which allows you to access deeper emotions and closer places to shoot. By taking on a 'guest' role yourself and being as helpful as possible, the possibility of 'great' shots increases, and you enjoy the day so much more. If you're having a blast on a wedding day as a photographer, you know your pictures will be next level.
3) What are your biggest dos and don'ts for the big day?
As mentioned above DO communicate with your couple about their wedding schedule and shot list, and use your experience to allocate timings for groups, portraits, etc. Be clear when you'll start (usually 2 hours before the ceremony for me depending on where the couple are getting ready) when you'll end (I won't leave until the dance floor is in the bag), and everything in between!
DO overdeliver - wedding photography isn't just taking pictures - it's helping with buttonholes, letting the bride/s know when to get into their dress, and helping clear clutter up for sleek images. It can be as simple as giving the groom a nod when you arrive at the ceremony, to let them know, their partner has arrived and everything is going as planned. The relief is tangible!
DO plan ahead with your commute. Always set off taking into account the worst traffic even if it doesn't exist! You'll want those extra minutes when you arrive to get your kit on, familiarise yourself with the light and photo opportunities (*especially if there's rain on the way!)
DO pack for the worst case scenario too! In my opinion, you have to shoot with two cameras that are in good working order for weddings. If one goes poof, you will have a back up and the same goes for flashes. If something breaks, Amazon can't deliver so always plan ahead and have more kit rather than less. Same goes for batteries and memory cards.
DO prepare your equipment the night before at least. Charge your batteries (I take 6 minimum and the charger), format your memory cards and check your camera settings ahead of the day. You will wake up feeling ready! I tend to pack invisible suncream spray in Summer, bottles of fizz for the optional champagne shot and extra confetti just in case. Being prepared will help your nerves and elevate your customer service to gain future work.
Once you've got the shots down in a various section (like getting ready or speeches for example), DO be creative. Use some new techniques/compositions or props to gain more experience in a real life scenario. For example, a double exposure or some prism work. I love using fractal filters!
DON'T be afraid to get in close for the shot! When I first started, I was scared of the dance floor. I'd shoot with my back to the wall, hoping my lenses would do the work for me. How wrong was I?! I now dance along with the guests and use my flash (either direct or bounce) to gain the shots I want. The dance floor is such an important part of the day so get right in there to give yourself the best chance.
DO anticipate what's coming next and know the schedule inside out. You won't miss those special moments if you stay alert.
DON'T fixate on one particular shot or heavily overshoot to avoid intrusion (I call it 'flogging a dead shot') - weddings are fast paced so once you've got something in the bag, move on and really think about shot type and unique compositions to elevate your work.
DON'T delay the final gallery delivery. If anything, give them a slightly longer time and deliver it faster.
DON'T carry everything as you go as you'll want to be quick on your feet. I tend to carry a large bumbag with all my essentials: batteries, memory cards, water, etc and anything bigger like flashes are usually stored safe nearby. I know to grab my flashes or different lenses in lower light like speeches/dance floor.
4) Do you have any advice for other wedding photographers?
- Wear comfortable shoes and carry water. Your focus needs to be on the wedding 100% of the time, and being able to move fast without being dehydrated is so important.
- When you're capturing your couples portraits, it's always the in-between moments that pack a punch. When they think you're not shooting, they relax more and lean towards each naturally. It's these moments that are gold.
- Be the person that solves problems and brings clarity and confidence. Some weddings go swimmingly, and others need a little help along the way. Both are wonderful, but if you're the port in the storm, you will go far!
- Lean into images that are unique and unexpected - for example, a flower girl sticks her tongue out down the aisle or a bride's veil takes off in the wind!

5) Have people's expectations changed during your time as a wedding photographer?
Since Covid, couples are really embracing the kind of weddings they want. The traditional rules are applying less, with more creativity and personalisation. We used to see it more with 'Classic vs DIY' days, but now it's more about the duration of the day (ie, elopements) and number of guests (intimate or big).
Couples want the photography to tell the story of their day and bring back the memories from that day. It's no longer a staged arena - wedding days are full of life, connection and possibility for the future ahead! The cuffs are off and it's exciting!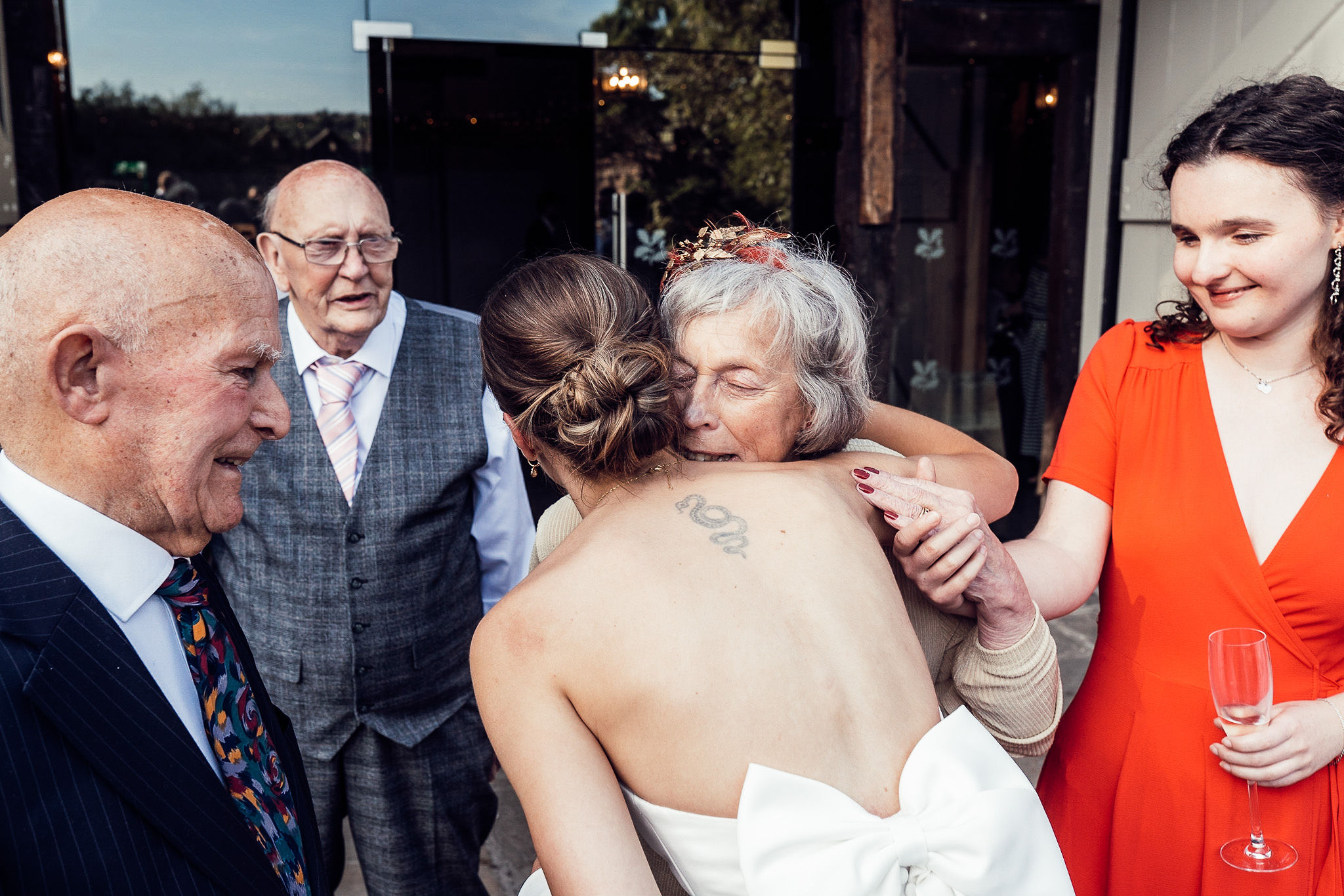 If you'd like to see more of my wedding work, I have a new website and this is my insta account.